Whistler Bike Park is notorious for mountain biking. It's considered the no.1 lift accessed downhill bike park in the world. With an impressive expanse of 80 km of terrain, 4 zones to choose from, not to mention an infinite number of trails in the valley outside of the park, there's no end to the fun you can have riding here whatever your ability. Plus, with the long-awaited Creekside Bike Park Zone now open, it brings nearly 11km and 40 new trails to the Creek Zone. It's no wonder the bike park is buzzing!
To prepare you for a summer of biking ahead, we've asked some local bikers for their tips, favourite runs, and all things mountain biking to get pumped. Arden Thorne, Marketing Manager for Nita Lake Lodge is relatively new to biking but gets out any opportunity she can. Liam McCook, Chef at Rocky Mountain Chocolate and bassist of local Whistler band, Introduce Wolves, is a long-time lover of bikes and ultimate bike nerd. With their insights and the best bike park in the world to play in, we're ready for an unforgettable season!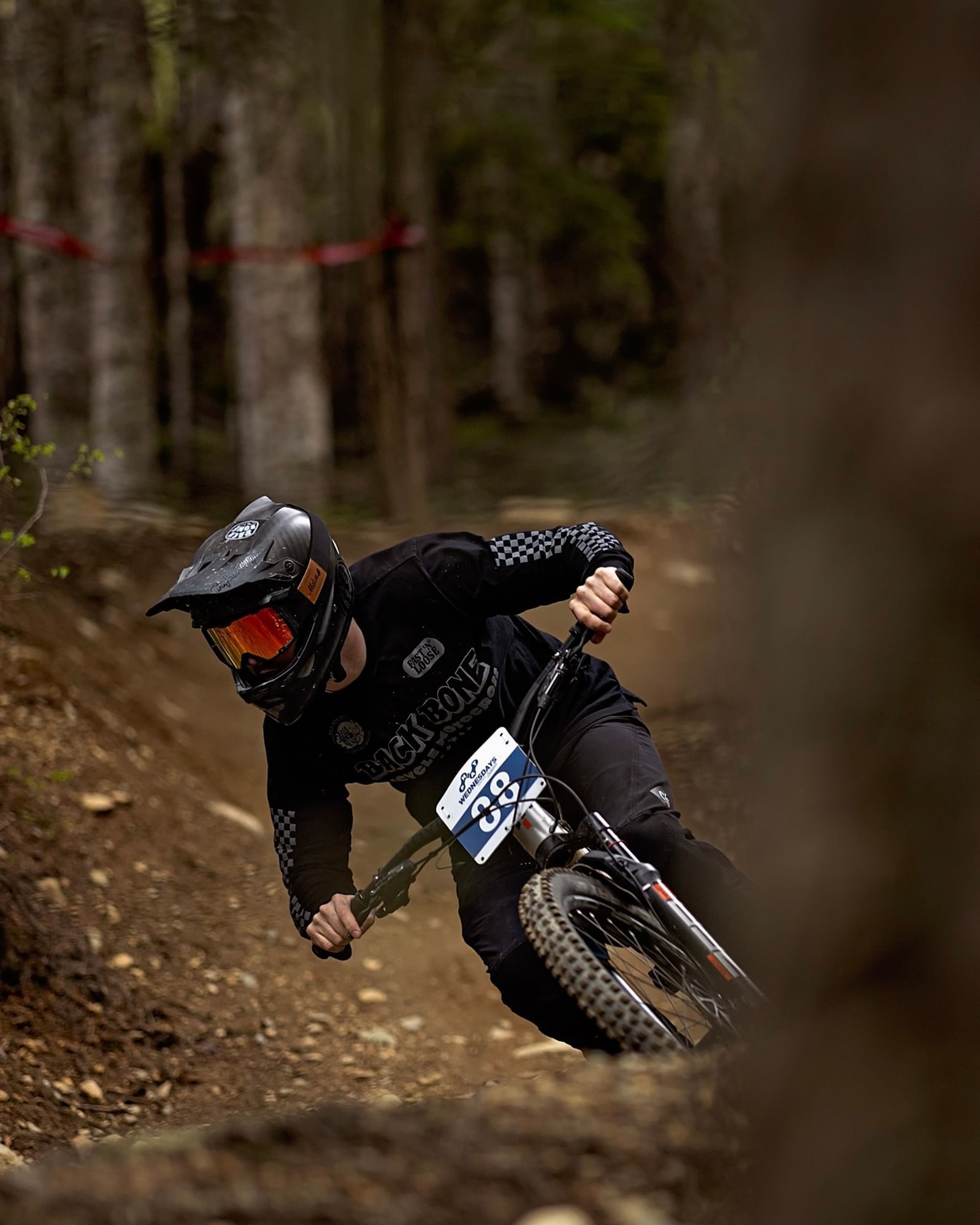 Liam during the Chain-less Phat Wednesday. Photo by Clint Trahan.
Q: When did you start biking and what brought you to Whistler?
Arden Thorne: I started gravel biking in 2020 when the pandemic hit. I then got into Mountain Biking a year later in 2021 once I moved to Whistler.
Liam McCook: When I was 11 years old in Canberra, Australia. Whistler is the mecca of mountain biking. There's lots of places that have similar vibes but there's nowhere else with more trails, and more kilometers of terrain. The Whistler Bike Park is the biggest bike park in the world, and world renowned for being what it is. Then outside of it, the whole Sea-to-Sky corridor is just full of mountain biking trails, so it's somewhere I just had to go.
Q: What got you into it?
AT: At first, it was just a way to get exercise during the pandemic while fitness centers were all closed. It quickly turned into something I really enjoy. It gets me outside exploring new trails and places. I quickly took to mountain biking because it 'levels up' the adventure aspect of biking.
LM: My dad got me into it as he's a mountain biker. We went to see a unicycle mountain biking competition in Canberra. I didn't really know what mountain biking was, but I guess my dad heard about the event, so we watched it and it was hilarious. But then I saw all the trails they were riding, and I was like I want to ride these on my bike. So next weekend we did! When I started doing it, I really enjoyed the freedom of it, the rush, and the feeling of flying around on my bicycle.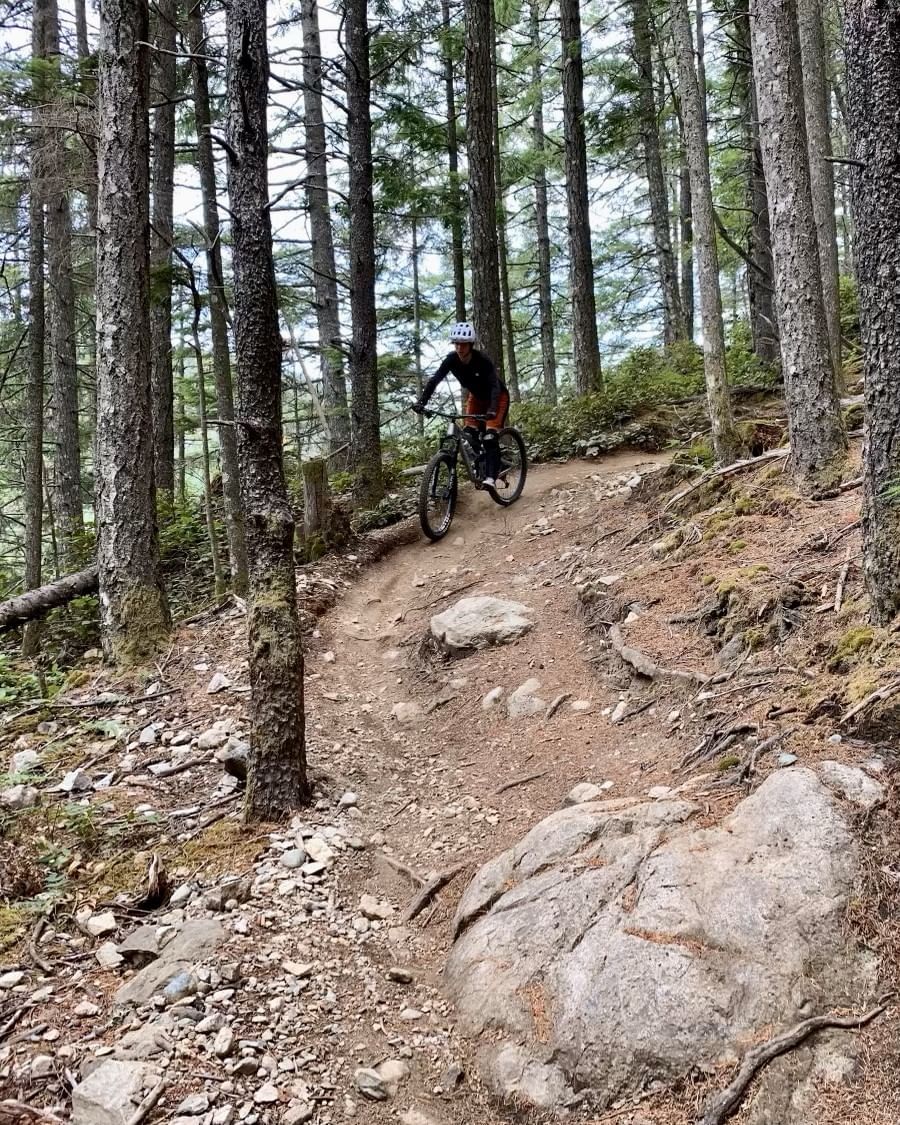 Arden exploring the Sea to Sky Corridor. Alice Lake Trail Network, Squamish, BC.
Q: What's your favourite trail in Whistler? Why?
AT: I haven't spent too much time in the Whistler Bike Park – but from the few days I've spent in there I really enjoyed Blue Velvet and Crank It Up. They were perfect for an intermediate level rider and offered enough thrill without being overly difficult.
In terms of trail riding, I really enjoy See Colors and Puke in Cheakamus and Pinocchio's Furniture in the Lost Lake trail network. They are both blue trails that offer some good tech features and flow for intermediate riders.
LM: A Line, Crabapple Hits and Dark Crystal. A Line because it's the most famous bike trail in the world, and for good reason! Its jumps are incredibly well built, it's very flowy and super fun. Crabapple Hits because it has nice big jumps that are fun to lap with your friends. And Dark Crystal, which is not in the Bike Park, but is my favorite tech trail in the world because it's the perfect gradient the whole way. It's techy without being too difficult. It keeps you on your toes, but you can still go fast and feel like you're flowing. You can just open it up and go for it.
Q: What's your number 1 tip?
AT: My #1 tip is simple... just get out there! It feels like such a far-fetched sport to get into. There are a lot of barriers, whether it be physical or financial. But, if you have the means to give it a try, it can be such a fun way to get outdoors and explore some incredible spots around the Sea to Sky.
LM: Relax. Let the bike do the work. If you point the bike towards something it'll just do it, so if you just relax and let it, rather than fight it, it'll be worth it. If you're coming into something technical too fast, rather than stiffening up and letting the bike move you around, if you just let the bike go and relax it will generally just work. The bikes these days are incredibly well built. There's decades and decades of science and research that's gone into making them as capable as they can be. It's got to the point now where we can basically sit down through tech sessions. So, relax, let your bike do its job. And just have fun with it! If you're scared of doing something, just do it. You'll probably be fine, and when you are it's the best feeling in the world.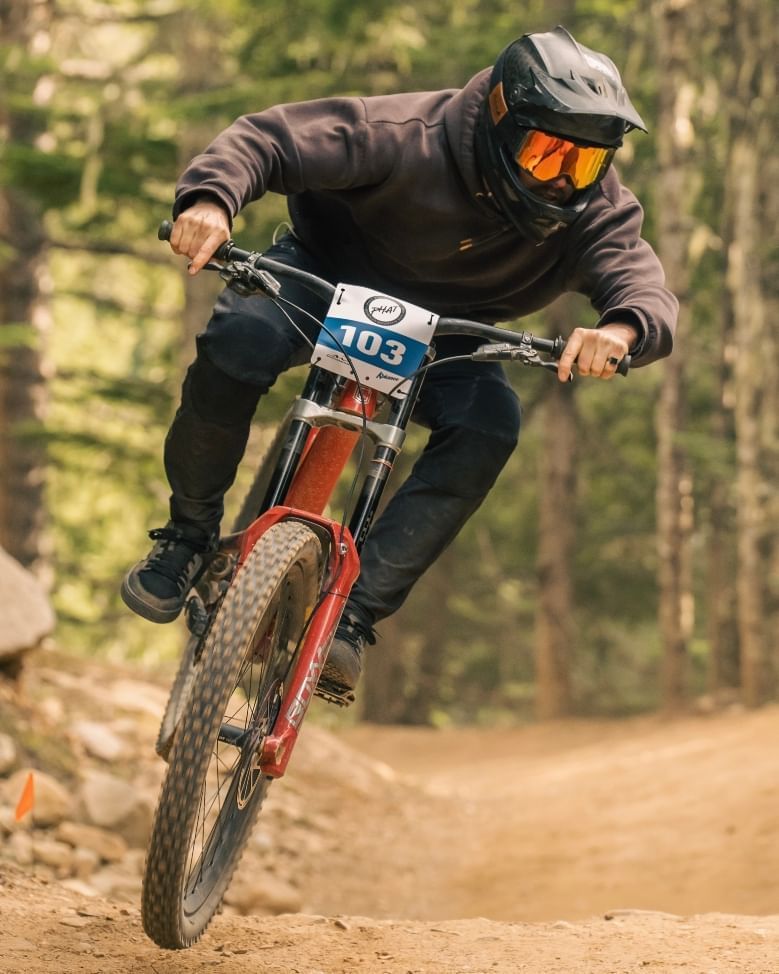 Mountain biking is all about relaxing into it and letting the bike do the work. B Line, Whistler – Chain-less Phat Wednesday. Photo by Oisin McHugh
Q: Which zone is best to ride - Fitz, Garbo, Creekside or Peak?
AT: I haven't ridden much of Whistler Bike Park trails! That's the exciting thing about mountain biking in Whistler, there are so many trails to choose from. I haven't even gotten close to trying them all.
LM: Well, I've only ridden the new Creekside zone as of today so it's a tricky question to answer. But the new trails I did ride are pretty dope! But Fitz is the best. It has all the iconic trails, including A Line, Dirt Merchant and Schleyer (named after Richie Schley). It's the classic. It's what everyone thinks of when they think of Whistler Bike Park.
Q: What piece of equipment can you not bike without?
AT: This may be obvious but 100% a helmet! If you are in the Bike Park, a full-face helmet is essential. You'll also need knee pads and for extra safety, a chest protector. If you are on the enduro trails, knee pads and a regular helmet will suffice – although you can't go wrong with maximum protection just in case you take a tumble.
LM: A bike!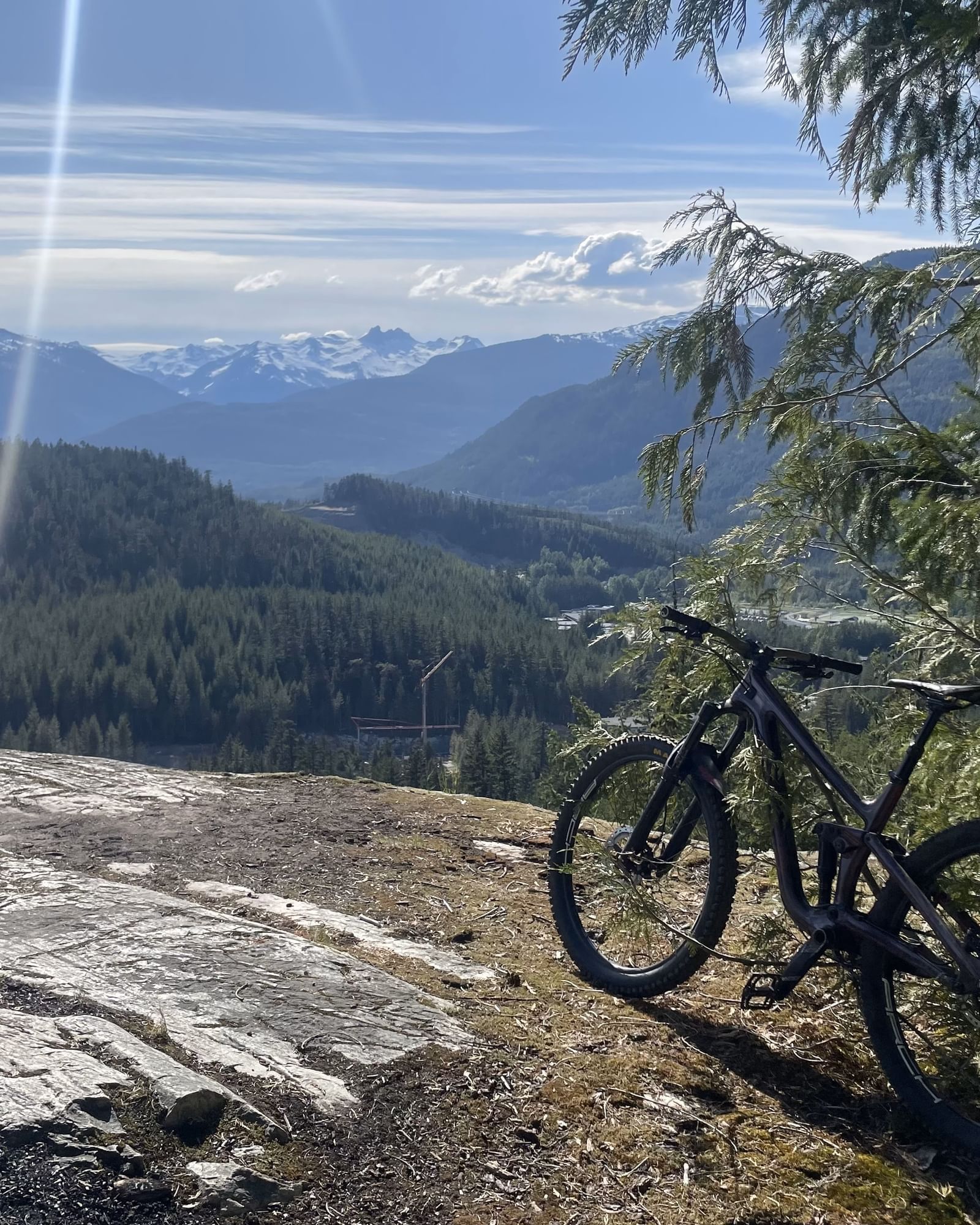 The climb is worth it for a view like this. After Hours Lookout, Cheakamus, BC.
Q: What's your favourite thing about biking?
AT: My favorite thing about biking is that it combines exercise with meditation. I love the workout I get from a big ride, but it's also the best way for me to turn off my brain and be present in the moment. Plus, getting to explore new areas and see some incredible viewpoints along the way is a perk.
LM: Jumps! There's a sense of achievement, exhilaration and adrenaline after doing something that scares me, whether it's a particularly difficult feature, a big jump or riding the trails as quickly as I can. It's just a cool feeling to do something that most of the world would look at as being extreme. The experience of doing a 60 ft jump and then pushing up and doing it again, is incredibly satisfying.
Q: How do you spend your post-ride time?
AT: In the summer, I always jump into a refreshing Whistler Lake to cool down. After that, I stop by Fix Café for a $12 pizza and beer combo – available everyday from 3pm to 6pm. It's the perfect routine!
LM: There's nothing better than a post ride beer with friends, recounting the ride or laps you've been on and laughing about the silly things that have happened. Whether someone almost had a massive crash, or did have one, and laugh about it over a beer - as long as they're not in the hospital!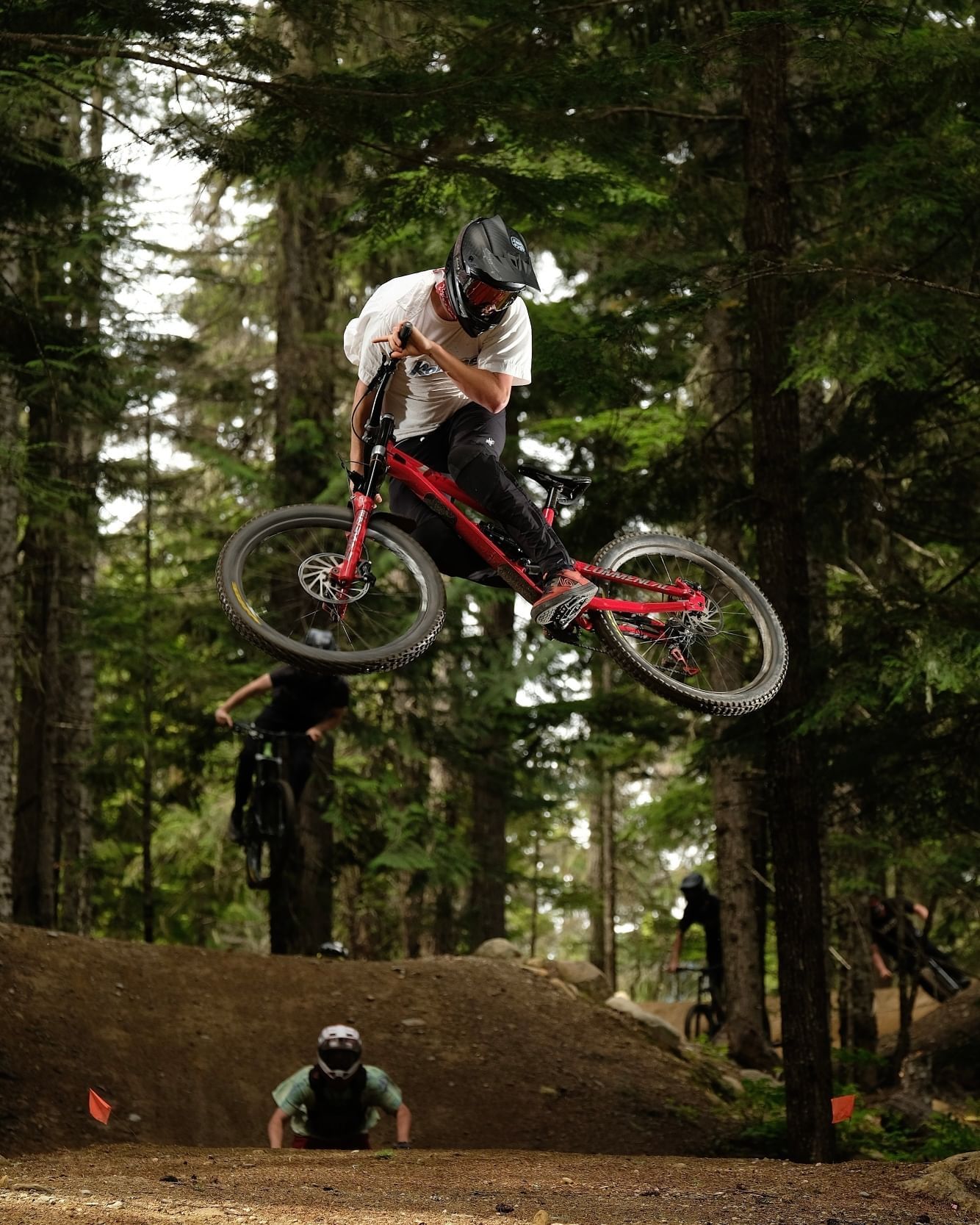 Liam taking the leap on A Line on Opening Day 2022. Photo by Daniel Gomez Serrano.
Make sure you're prepared
With any extreme activity, it's important to stay as safe as you can. Knowing how to be prepared before you ride and what to do if you have or witness an incident is vital. Here are a few key safety points to follow:
Only ride within your own ability

Look out for one another

Check construction updates

Call Patrol if you witness or are involved in an accident.

(604) 935-5555

.

Pre-ride, re-ride, free ride

Do not poach trails

Obey all signage and closures
Whistler Blackcomb Bike Park info
Download WB Bike Park Map
Trail Forks - This website/app provides a multitude of features to help you discover the best trails & routes to ride. Click to download app.
With the whole of Whistler Bike Park now open, it's time to get out there before closing day on October 9th, 2023. Nita Lake Lodge is perfectly located a short distance from Creekside Gondola, providing easy access to the newly opened zone. Grab your bike and walk right to the gondola or take our complimentary shuttle service to Whistler Village to experience all that Whistler has to offer. Be safe and have fun in the Bike Park!
As Whistler's only lakeside resort & spa, we are an adventure seekers paradise - and our new Summer Getaway Package has it all covered. Book our Summer Getaway Package today for exclusive discounts, dining inclusions and experiences.